Vision/Mission
Based firmly on 30 years of commitment to fair trade and sustainability, Selyn Textiles was born of a desire to bring Sri Lankan handloom to the world stage. While a 2500-year history of weaving is being threatened by a global pandemic, we proudly present to the world a collection of intricately handwoven textiles; fair trade guaranteed and cruelty-free, with cutting-edge blockchain technology ensuring greater transparency to those hands that weave it.
Overview
Our commitment to empowering women artisans from rural communities, as laid by our Founder Sandra Wanduragala 30 years ago, remains unchanged. Guided by this philosophy, we are now one of Sri Lanka's largest social enterprises, with a thriving network of close to 100 artisans from all across the Island.

As Sri Lanka's only and leading Fair Trade guaranteed handloom manufacturer, we have a strong ethical compass working towards a sustainable tomorrow. Our collections are cruelty free (PETA-Approved Vegan) and committed to ensuring the best quality while ensuring an eco-friendly product and process. Our cotton yarn is OEKO-Tex certified, dyes and chemicals are Reach, Bluesign and GOTS certified and a waste-water treatment plant ensure our environment is not harmed during the manufacturing process. In addition, we are committed reduce our dependancy on imported cotton and to source locally; closer to home. With the use of alternate fibres including banana, coconut, palm, reed and jute, all sourced from the community's own backyards, we've developed a framework that brings resources closer to production, reducing our carbon footprint and achieving zero-waste.

Our ethically manufactured, biodegradable fabrics are the perfect medium for eco conscious designers looking to create impact through dynamic design techniques. With the integration of blockchain technology amongst our supply chain, we ensure you know what's happening every step of the way from fibre to fabric and beyond. We have with us 30 years of integrity and trust amongst creatives and designers, the world over, looking to lend their creative instincts to the narratives of culture, heritage and community.
Foundation
The Selyn Socio-Economic Development Foundation, known also as the "Selyn Foundation", is a non-profit initiative created in 2009 by Sandra Wanduragala, founder of Selyn as yet another way to empower Selyn's network of artisans. While Selyn's flexible working models enable our artisans to access work within their comfort zones, we are very conscious that they need to be further supported if they are to continue to stay at work. This is where the Selyn Foundation steps in and its primary mission is to implement the "Skills to Empower" program which has been carefully formulated to provide the support network for our artisans to take advantage of their financial independence. The program covers the three key areas of wellness, financial management and leadership and entrepreneurship development and is implemented on a needs basis to our entire network of artisans. A key feature of the foundation is a revolving fund which has been set up to provide low-interest loans to our network.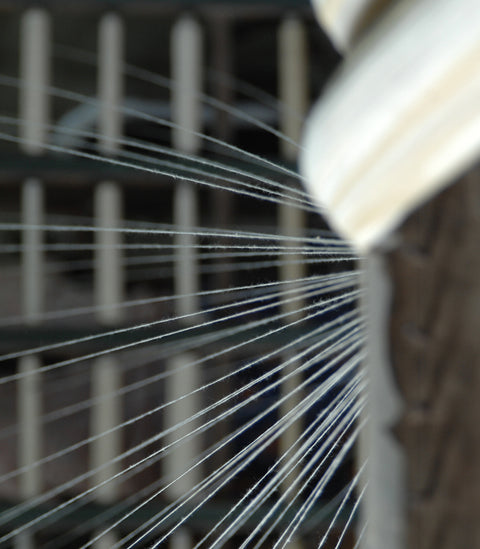 The Lab - R&D
In an era of sustainability, circularity and social responsibility the development of the cottage craft sector should not stop at inspiration for prints or colors, but become an ever more crucial step towards the empowerment and positive impact of artisans but also a new source of supply/manufacturing solutions. Here rests an opportunity to connect, collaborate and develop.
Our Weaving Network